What options do you have if you have not reached the points score required?
State and Regional Sponsorship
State sponsorship is an exciting option for many clients who have not been able to reach the point score for occupations under the 189 pathway.
More occupation choices
While applicants for the 189 must have an occupation on the MLTSSL, states and regions may be able to sponsor for MLTSSL, STSOL and ROL occupations. This means that there may be a greater opportunity for a migration pathway by seeking state or territory sponsorship.
What is the point score for State 190 and Regional 489?
The point score for most states and regions is still 65, including either:
5 points for state sponsorship
10 points for regional sponsorship
However, some states such as VIC and NSW places are competitive for some occupations and a higher point score may still be required.
Other ways to increase your points
Additional points many be awarded in a number of ways including, but not limited, to:
Increasing your level of English
Higher education in Australia or overseas
Years of work experience in Australia or overseas
NAATI
Professional Year
Partner points
Conclusion
Whilst it is encouraging to see the points scores for invitation decrease and the number of invitations increase in some areas, legislative changes are continuing to be made to the general skilled migration program and require close attention to detail. We strongly recommend prospective applicants to seek expert advice and guidance from a reputable Registered Migration Agent specializes in Immigration law.
If you would like to know more about how these changes impact you please book a consultation  with one of our consultants.
The 10th Thomian Carol Service – Organised by the STC OBA NSW/ACT 
A Festival of Nine Lessons & Carols (Saturday 1st December 2018) (Sydney Event)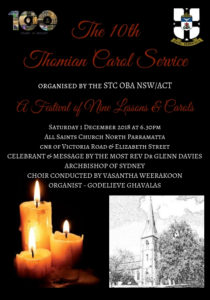 The 10th Thomian Carol Service
Lock in Saturday the 1st of December in your diaries now to taste the first signs of Christmas spirit with a quality Carol Service and fellowship thereafter.
The message for the 10th Carol Service will be delivered by the Archbishop of Sydney most Rev Dr Glenn Davies with dignitaries such as Peter Jensen & the Sri Lankan High Commissioner HE Skandakumar scheduled to attend."
Date/Time
01/12/2018
6:30 pm – 9:30 pm
Location
All Saint Church
Royal Bollywood Nite
"AN EXQUISITE NIGHT FOR YOU AND YOUR PARTNER"
DJ Shanaka and Many more Surprises
Saturday, 27th October 2018
6.30 PM(Pre-Drinks & Canapes)
Venues:Madison Function Centre,Dural
Tickets:
Chanaka Gunasekara-041-0640445
Devaka Fernando-041-2507124
The  Half Time – St Peter's College Melbourne Rugby Club
Date:22nd September 2018
7.15PM
Herlequins Rugby Club
27 Pwer Avenue,Ashwood VIC 3147
Contact:
Randy:0421715498
Tharindu:0431286034